Services
---

Electronic Health Record
Increase efficiency with the solution that fits your practice. Streamline documentation with the use of customized templates, voice enabled documentation, and an intuitive learning system that adapts based on the user's inputs.

Revenue Cycle Management
Take the hassle out of medical billing and let SoftAge become your revenue cycle management team. Your dedicated account reprensatives ensures the entire revenue cycle is smooth so you can focus on the care of your patients.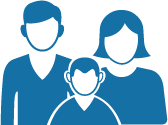 Patient Engagement
Staying connected with your patients is key to increasing positive outcomes of your patient population. Now it is easier than ever for providers and staff to communicate with and improve the health of their patients all on a mobile platform.
Take Full Control of Your Practice
SoftAge Health offers a complete EHR with all of the features your practice needs to be successful. Concentrate on patient care and let the data analytics be a guide to improve the health of your patients and the overall financial health of your practice.
Online Appointments
Established and new patients can schedule appointments as well as update demographic information needed.
Electronic Prescribing
Send prescriptions electronically to all of the pharmacies in the SureScripts network - over 95% of pharmacies in the U.S.
Lab / Imaging Interface
A bi-directional interface allows providers to send orders and receive results for many lab and imaging facilities.
Patient Health Records
Each patient has their own health record which encompasses all of their encounters, medications, lab results, and more.
Patient Portal
Providers and their staff can communicate with their patients and also send lab results, renew prescriptions requested from the patient, send statements online and more.
Secure Messaging
The direct messaging feature allows for communication between their patients and other provider offices whether they are using SoftAge or another EHR system.
Referrals
Transmit referrals electronically along with any relevant documents (labs, encounters, imaging scans, etc.) to the desired physician.
Medical Billing
Submit and follow-up on claims yourself or let one of our knowledgeable SoftAge account representatives perform all your revenue cycle management needs.
Meaningful Use Reports
Quality Measures and Automated Measures reports are easy to generate and help you understand how your practice is currently performing relative to the standards.